One call for cupcakes and what do you end up with? Well over what I could come up with in a year. Over 60 recipes, each different… lots of chocolate cupcakes, many fruity cupcakes, some spicy ones, and a few more that fit no category. Garrett and I were delighted (if slightly overwhelmed) with the response.
Enjoy browsing. I know I have. I will be hard pressed to pick just one recipe to recreate for a future post.
Note that cupcakes are organized into four categories (chocolate, fruit, spice, other) and that there are a handful of gluten-free recipes dispersed among them.
Chocolatey Cupcakes
Black and Tan
By Mike of
A Tasty Pedia's Blog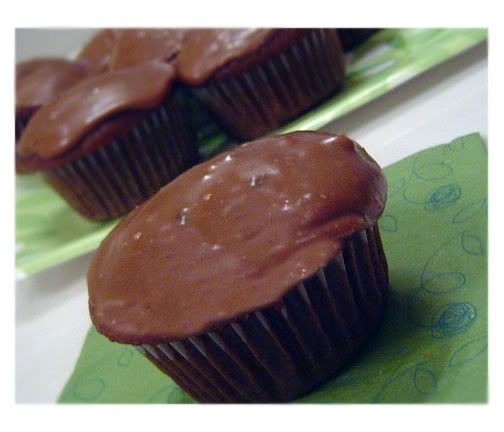 Dr Pepper Cupcakes
by Kristen of
Dine and Dish
Cappuccino Chip Cupcakes with Mocha Frosting
By Rachel of
Rachel's Bite
Orange Chocolate Cupcake with Nutella Ganache Filling and Hazelnut Buttercream Frosting
By Sandra and Ernae of
The Sour and the Sweet
Chocolate Cheesecake Muffins
By Lexi of
Boybeater
Chocolate Espresso Cupcakes
By Mary of
Alpineberry
Party Cupcakes
By Shini of
Shini
Chipotle Cinnamon Chocolate Cupcakes
By Garrett of
Vanilla Garlic
Triple Chocolate and Raspberry Cupcakes
By Janell the Great of
Janell the Great
Tiramisu Cupcakes
By Becky Brown of
beckybrown24
Mexican Chocolate Cupcakes
By Margaret Meaney of
Chez M, en Retard
Mocha Cupcakes
By Haalo of
Cook (Almost) Anything At Least Once
Grasshopper Cupcakes
By Freya of
Writing at the Kitchen Table
Turtle Cupcakes
By Raspil of
The Noisy Kitchen
Chestnut Cupcake with Chocolate Swirl Frosting
By Helen of
Tartelette
Orange Poppy Seed Cupcakes with Chocolate Whipped Cream
By Garrett of
Vanilla Garlic
Oh My Darling Clementine Cupcakes
By Christina of
Wishing on Clovers
Devil's Food Cupcake's
By Ellie of
Kitchen Wench
Chocolate Cupcakes with Berry Ganache & Cinnamon Buttercream
By Sarah of
Slighcarp and Grimshaw
Deep, Dark Chocolate Cupcakes with Tangerine Honey Frosting
By Lis of
La Mia Cucina
Boston Cream Pie Cupcakes
By Anita & Cameron of
Married with Dinner
Chocolate Cupcakes w/ Quick Orange Frosting & Chocolate Cupcakes with Brown Sugar Buttercream
By Maggie of
The Maggpie
Cuba Libre Cupcakes
By Rachel of
Coconut and Lime
Mexican Chocolate Cupcakes
GLUTEN FREE!
by Brendon of
Something in Season
Pumpkin and Mexican Chocolate with Toasted Cinnamon Cream Cheese Frosting
by Posy of
Posy Party Cakes
Basic Vanilla Cupcakes with Two Kinds of Chocolate Buttercream
by Sheryl C. of
Crispy Waffle
S'mores Cupcakes
by Aoife of
Yumbrosia
Fruity Cupcakes
Lemoncello Ricotta Cupcakes
By Cynth of
A Tasty Pedia's Blog
Almond Cupcakes with Guava Cream Cheese Filling
By Jenny of
Sew Darn Cute
Lemon Sunshine Cupcakes
By Jennifer of
Weekly Dish
Fruit-filled Coconut Cupcakes with Coconut-Vanilla Bean Buttercream Frosting
By MRBUNSROCKS of
Definetly Not Martha
Hunk of Burning Love (The Elvis Cupcake)
By Sher of
What Did You Eat?
Chempedak Cupcakes with Mango Drizzle
By Noraishah Hamid of
My Gastronomic Adventure
Passionfruit-Coconut Cupcakes
By Ann Martin Rolke of
Sacatomato
Figgy Cupcakes with Mascarpone Icing
By Kelsey of
ironskillet90
Lime-Vanilla Cupcakes with Cucumber Buttercream
By Andrew of
Real Butter and Clean Milk
Coconut Cloud Cupcakes
By puddingpop of
Wait and See Pudding
Avocado Cupcakes with Palm Sugar Buttercream
By Ratna of
Simply Cake
Lammas Cupcakes with Lemon Curd and Whiskey Cream
By Pancha of
Panxa
Almond Brown-Butter Cakes with Sour Orange Meringue
By Lara of
Cook and Eat
Double Seville Orange Cupcakes
By Gemma of
Dressing for Dinner
Almond-Ricotta Cupcakes with Lemon Royal Icing
By Sean of
Hedonia
Carrot Cupcakes and Banana Cupcakes
by Brilynn of
Jumbo Empanadas
Banana Tropical Pomegranate Surprise Cupcakes
by Sandra of
Yes, I Am a Bitch, Get Over It
Spicy Cupcakes
Vanilla-Cardamom Cupcakes with Grand mariner Buttercream and Candied Orange Zest
By Julie O'Hara of
A Mingling of Tastes
Saffron Vanilla Cupcake
By Kerry Alice of
a Tasty Pedia's blog
Ginger-Cardamom-Jaggery Cupcake
By Mandira Banerjee of
Ahaar
Spice Cupcakes with Maple Marshmallow Frosting
GLUTEN FREE!
By Gluten Free Momma of
Gluten Free Organics
Key to My Heart (Pear & Walnut Cupcake with Cardamom Buttercream)
By Glenna of
A Fridge Full of Food
Curried Cupcakes
By Emilie of
QuintanaRoo
Gingerbread Cupcakes
By Laura of
Laura Rebecca's Kitchen
Very Gingery Cupcakes
GLUTEN FREE!
By Cathy, aka "The Dear Wife" of
Something in Season
Candied Lemon Peel, Walnut, & Dulce de Leche Cupcakes
By Letincelle of
Leitncelle&Soleau
Other Cupcakes
Citrus-Basil Cupcakes
By Michelle of
Another Yarn
Green Tea Bubble Cream Filled Cupcakes with Green Tea Cream Cheese Frosting
By Chockylit of
Cupcake Bakeshop
Demarara Sugar Rimmed Pound Cake Cupcakes
By The Parson's Wife of
The Parson's Wife
Green Mung Bean Cupcakes with Palm Sugar Buttercream Frosting
By Ratna of
Simply Cake
Baklava Cupcakes
By Lara of
Aral Traven
Black Sesame Peanut Butter Cupcakes
By Joann of
Baking + Graduate School = Joann's Life
Cappuccino Cupcakes
By Margaret of
Kitchen Delights
Derby Cakes
by Posy of
Posy Party Cakes